We live in a nation where our moods reflect the weather, and so do our clothes. The majority of our wardrobes are made up of hues of black, navy, and brown. But there's no reason why our outfits should scream pathetic fallacy as well as our faces when there's so much colour we could be we incorporating into our outfits. We could brighten up a bleak day by simply just wearing a more vibrant coat and stand out from those in the sea of characterless clothing that blend in with the grey skies.
Just look at the Queen for example, she doesn't let the fog or decreased temperatures bring her down, obviously she doesn't have the worries of tax credit cuts and the housing crisis to dampen her demeanor, but she manages to bring smiles to all those she meets, which wouldn't have the same effect had she been wearing blacks and greys.
She makes a positive impression, because she looks positive. And if this simple tactic is good enough for Her Majesty, it's good enough for us civilians. She even manages to accessorise with matching umbrellas, proving that you really can look radiant even on a bleak rainy day.
Miu Miu's use of colour has become an iconic staple of their elaborate designs. Bold patterned dresses, coloured tights, and flamboyant footwear are all statement pieces of Miu Miu.
Many other designers are not shy in experimenting with colour. Gucci has been consistent with patterns and use of colour, and Valentino know how to use colour to their advantage as shown by the popularity of the extensive Rockstud collection that featured a rainbow of shoes and bags.
Even Balmain, which usually has a very committed relationship to black likes to use bold colours now and then.
Everyone loves black, black is beautiful, black is safe. But because black goes with everything, we shouldn't be afraid to add colour to it. If you're not ready to stray far from the black and draw too much attention to yourself, then start with colourful accessories, a striking pair of shoes, or vibrant skirt. You don't need to be kitted out in a royal block of colour to brighten up your outfit. Start with a few striking pieces to make that transition more comfortable.
Zara Wool Coat – £69.99
ASOS Coat in Retro 60's Shape – £85
French Connection Jackson Oversized Wool Coat – £180
Miu Miu Pleated Glossed-Python Skirt – £8,080
Cos Voluminous Pleat Skirt – £79 
Topshop Satin Promo Midi Skirt – £60
ASOS Mini Skirt With Contrast Zip – £28
ASOS A-Line Skirt in Suede With Zip Through Detail – £55
Christian Louboutin So Kate 120 Neon Leather Pumps – £445
Jimmy Choo Darylin Suede And Patent-Leather Pumps – £450
Jimmy Choo Alina Neon Patent-Leather Point-Toe Flats – £360

Topshop Revamp Metallic Bow Sandals – £52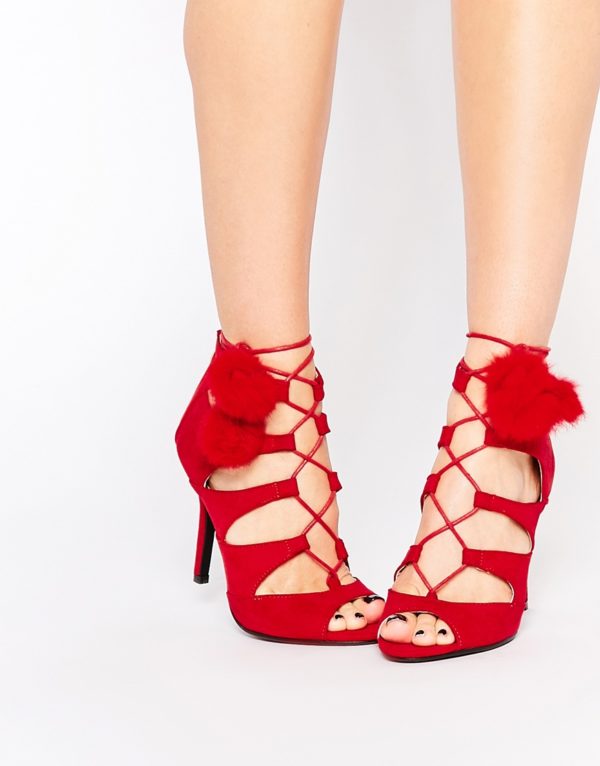 ASOS Glamorous Red Ghillie Heeled Pom Pom Sandals £29.99
If you look out the window in the morning, and see grey skies and dark clouds above, don't dress for how that makes you feel, dress for how you want to feel. Stand out, be remembered, look approachable, and make a positive impression. And in doing so you will feel more positive.
You might also like