We bring you two utterly different but outstanding ready to wear collections from Paris Fashion Week. These two labels took a different direction and delivered a spectacular show.
Balmain came ready for war while Dries Van Noten was all about colours and went as far as giving us a real life throwback by having supermodels from the 90s strut their stuff.
Balmain Autumn/Winter 2017 Ready to Wear Collection
Talk about blending in with the wild, Balmain's Autumn/Winter 2017 Ready to Wear Collection was all about that. We all know Balmain is not a label for those who like to go unnoticed and Rousteing did not hold back yet again.
Special effects, rivets, studs and chain-mail on everything to snake skin, croc type textured garments, fur jackets and more. Giving us tribal in a different form on the runway, models had braided hair paired with thigh high booties in suede and leather, lots of brown, black and animal type fabrics.
Gigi Hadid was first down the mirrored catwalk watched by boyfriend Zayn Malik and singer Nick Jonas from the frow. The model who recently fronted the first ever cover of Vogue Arabia looked ready for war!
Her hair plaited in cornrows, while wearing a T-shirt paired with shredded skirt and suede boots with a cave-woman style make up to match the look.
Talk about super crazy wild times for the Balmain fans.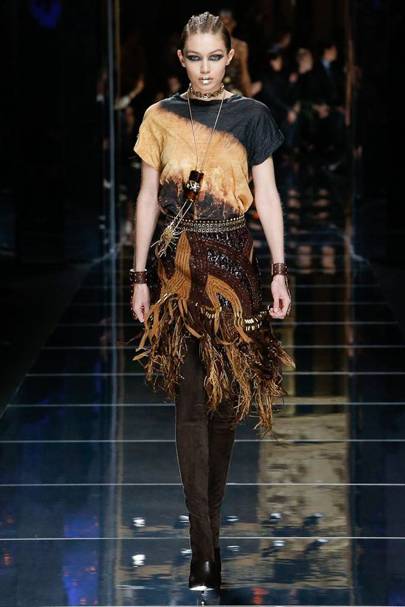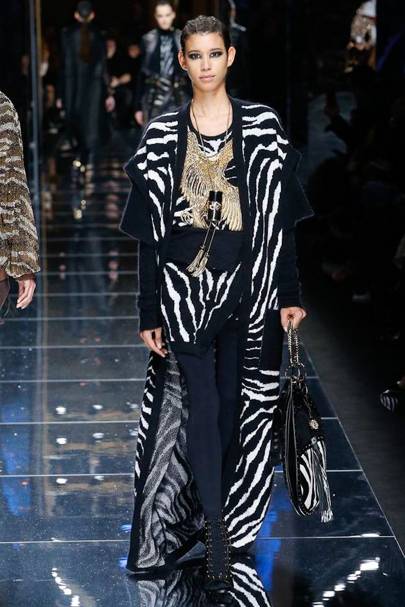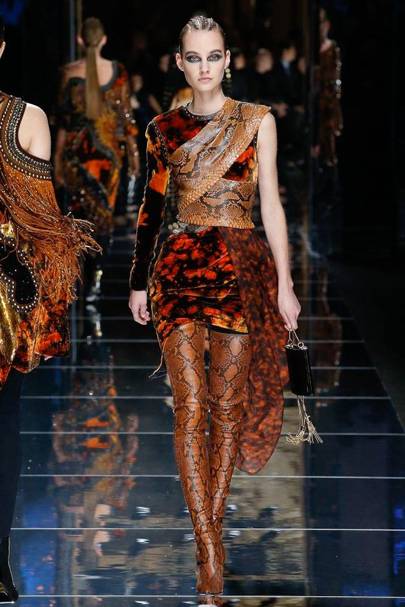 Dries Van Noten Autumn/Winter 2017 Ready to Wear Collection
Name a top model from the last forty years, and here they all were; Liya Kebede, Sasha Pivovarova, Amber Valletta, Cecilia Chancellor, Emma Balfour, Rosemary Ferguson, Erin O'Connor, Kirsten Owen, Carolyn Murphy, Trish Goff, Sylvia van der Klooster, Kim Noorda looking ever so gorgeous alongside relative newcomers Hanne Gaby, Julia Nobis, Mica Arganaraz.
Dries Van Noten contacted models who had walked in his first Paris show back in October 1992.
For his 100th catwalk show, he wanted to recapture some of the magic of the old. Each look comprised one of Van Noten's favourite prints from his archive overlaid with geometric shapes and sequinned embroidery.
Sam McKnight revealed backstage that the team and cast had spent three days pulling the show together – and every moment had been spent laughing and reminiscing. The joyful atmosphere was infectious, augmented by the fact that each woman looked so wholesomely comfortable in her clothes.
Dries Van Noten's collection was colourful, vibrant, lots of prints and a little bit of tropical. Oversized jackets paired with denims, furs to dresses, shirts and skirts.