The OG 90s supermodels including Naomi Campbell, Helena Christensen, Claudia Schiffer, Carla Brunio and Cindy Crawford strutted the Versace runway SS18 show in amazing body flattering gold gowns, closing the event and making it one to remember. Donatella celebrated the life and work of her brother Gianni Versace on the runway making fashion history once again.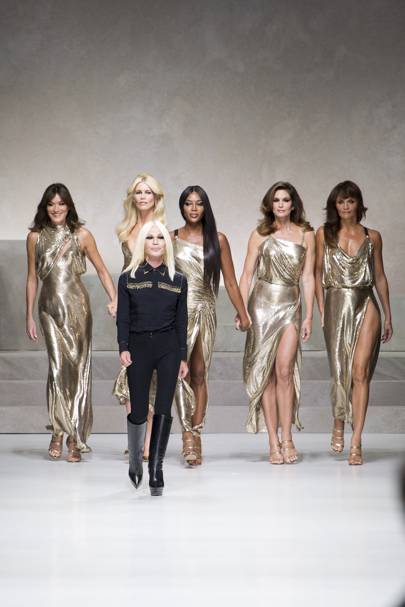 From all black everything to shades of blue, purple, red, yellow and pink. From swimsuits to denim jackets and cow boy hats, the Versace show was one hella showcase. From leather combos, logo t-shirts to body hugging dresses and patterned swimsuits and blazers.
A full combination to take you all through spring summer all the way to autumn, Donatella surely delivered.
With over 70 looks on the runway, Versace brought back not only great memories from the 90s but featured the upcoming supermodels like Gigi Hadid, Kendall Jenner and more.
Just few days since reaching the legal age limit for a runway model and after her first ever photo shoot with British Vogue was published, Cindy Crawford's daughter, Kaia Gerber made her runway debut in Raf Simons's sophomore Calvin Klein 205W39NYC collection. And here again Kaia Gerber and her mum Cindy Crawford both walked the Versace show, talk about mum and daughter goals.
Cindy also passed the baroque baton to Kaia, it is no coincidence that her mother wore a similarly snazzy suit on the runway back in the Nineties. "This is my mother, this is mother, it's true!" the 16-year-old cried backstage when she saw the outfit.
Kaia also brought Gianni Versace and her mother's modeling heritage full circle, Gerber wore a bodysuit embroidered with Nineties Vogue covers, and guess  who's face was also on it, Cindy Crawford.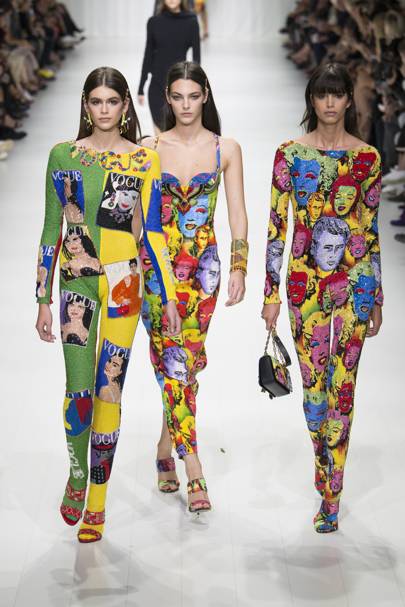 Original Gianni Versace designs graced the runway, the black-and-white tasseled skirt worn by Natasha Poly was formerly an archive piece from the Native American A/W 1992 collection which was originally modelled by Naomi Campbell, The original design was so detailed that it could not be replicated in time for the S/S18 showcase.