The most loved-up day of the year is just few days away – whether you are the mushy mushy love type or you find it all a bit cringe, there's no better time to treat the lady you adore to some special gifts.
Guys, up your game this Valentine's Day and treat her to some special gifts. Check out FRUK's gift ideas below!
Whether you are planning to go on a hot date or just cuddle up on the sofa watching Netflix why not gift the lady you adore a beautiful luxury lingerie set.
Check out this amazing Victoria's Secret's lingerie piece, this is obviously one of our favorite at the moment, but be sure to choose one that would fit her perfectly and it could even be in your favorite color too. See more here
Never underestimate the power of a fresh scent to gift her.
Perfumes are always a win, a woman can never have too many shoes, clothes or perfumes. We are currently loving this Estée Lauder Modern Muse Eau De Rouge – Fresh twist on Modern Muse Le Rouge, this fragrance is a flirty contrast of dewy rosebuds and vibrant fruits, kissed with dreamy, iridescent woods.
Whether you're newly dating or have been together for several years, getting drunk on Valentine's Day can be cool AF! Check out this Bollinger Special Cuvée Rosé.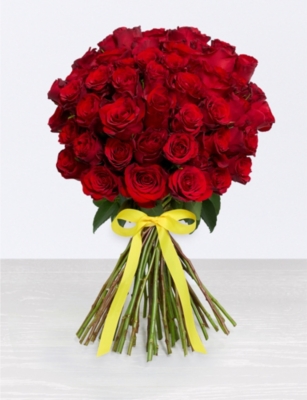 Roses are red…… flowers are everything and you can never go wrong with gifting a bunch alongside the above gifts to the person you adore.
Check out this selecttion of Fifty Red Roses Bouquet. This classic arrangement features a beautiful medley of 25 upper class and 25 freedom roses – ensuring a lasting and impressive petal count. Set against vibrant green foliage- Selfridges
These amazing gifts will not only make the perfect romantic gesture but set a perfect sexy V-Day mood for you and your partner..
Saint Valentine, third century AD (Rex)
Saint who?
Do you know why Valentine's Day exists? Legend has it that Saint Valentine was a Roman priest in the third century, during the reign of Emperor Claudius II. The emperor had banned soldiers from getting married because he wanted them to have nothing to lose on the battlefield, but Saint Valentine (a hopeless romantic, we imagine) defied the law and arranged their marriages in secret. He was caught and sentenced to death, but in prison he fell in love with the jailer's daughter. On the day of his execution – 14 February – he penned her a farewell love letter signed 'from your Valentine'. Sob.