Unless you've totally ignored all the 'show her she's really special' ads that have been popping up all around since the beginning of the year, you'll know that Mother's Day is this Sunday, that is tomorrow by the way.
And if you haven't yet thought about how to spoil your mum or get the perfect gift, FRUK is here to save the day!
From blooming bouquets to fine jewelry, we've got you covered.
Here are some awesome last minute Mother's Day Gift ideas for that special woman.
N°5 L'EAU SPRAY 50ML £74.00
Oh so last minute, but this N°5 L'EAU will definitely serve the purpose and on time too. Pop by the nearest perfume store to shop one of these.
A vibrant abstract floral under the banner of modernity, with freshness at its core. N°5 L'EAU, a praise of simplicity. N°5 L'EAU, the obvious choice. Its minimalist packaging has the iconic silhouette of the fragrance embossed on the cardboard case. Inside, a second box protects the crystal-clear glass bottle. No component spoils this distinct impression. The supreme simplicity of the bottle further accentuated by the contents, gives free rein to the imagination of the woman who chooses this fragrance for her skin. Chanel
LV CLUNY MM M41299 £1,850.00
Spoil her a little and get that special woman a designer bag this Mother's Day. This Cluny is just perfect and so classy.
Ideal bag for business, with its top handle for hand or elbow carry and a removable strap for over-the-shoulder wear. A magnetic closure keeps personal effects secure in the well-organized interior pockets. LV
Marco Bicego : Murano Topaz Drop Earrings £995.00
Nothing like fine expensive jewelry. This Murano Topaz Drop Earrings will serve as a perfect gift.
Inspired by the beautiful reflections on the Venetian sea, the Marco Bicego Murano earrings promise an elegant finish for day or night. Crafted in 18 karat yellow gold and hand-engraved with the time-honoured Bulino technique for a subtly textured finish, the earrings feature beautiful cushion cut Topaz jewels that are set without a solid backing, for a light, ethereal look that catches the light from every angle. 
M&S Mother's Day Bouquet £30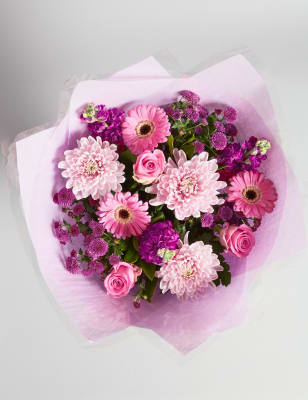 A stunning Mother's Day bouquet; a combination of purple germini, pink roses, purple chrysanthemums, pink scented stocks, and scented eucalyptus foliage makes a wonderful gift for Mum. M&S
Assorted Chocolate Gold Gift Box, £25, Godiva